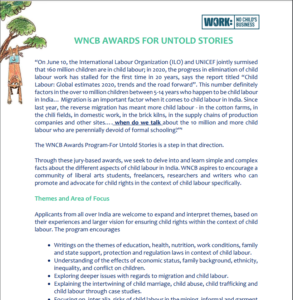 "On June 10, the International Labour Organization (ILO) and UNICEF jointly surmised that 160 million children are in child labour; in 2020, the progress in elimination of child labour work has stalled for the first time in 20 years, says the report titled "Child Labour: Global estimates 2020, trends and the road forward". This number definitely factors in the over 10 million children between 5-14 years who happen to be child labour in India… Migration is an important factor when it comes to child labour in India. Since last year, the reverse migration has meant more child labour – in the cotton farms, in the chili fields, in domestic work, in the brick kilns, in the supply chains of production companies and other sites…. when do we talk about the 10 million and more child labour who are perennially devoid of formal schooling?"
The WNCB Awards Program-For Untold Stories is a step in that direction.
Through these jury-based awards, we seek to delve into and learn simple and complex facts about the different aspects of child labour in India. WNCB aspires to encourage a community of liberal arts students, freelancers, researchers and writers who can promote and advocate for child rights in the context of child labour specifically.
Themes and Area of Focus
Applicants from all over India are welcome to expand and interpret themes, based on their experiences and larger vision for ensuring child rights within the context of child labour. The program encourages:
Writings on the themes of education, health, nutrition, work conditions, family and state support, protection and regulation laws in context of child labour.
Understanding of the effects of economic status, family background, ethnicity, inequality, and conflict on children.
Exploring deeper issues with regards to migration and child labour.
Explaining the intertwining of child marriage, child abuse, child trafficking and child labour through case studies.
Focusing on, inter alia, risks of child labour in the mining, informal and garment sectors in the states of Rajasthan, Bihar and Delhi NCR respectively.
Eligibility
Applicants should be of Indian origin residing in India, preferably between the ages of 21 and 40. Students and faculty of liberal arts, mid-career researchers/journalists, or freelancers, and people from all genders and sexual orientations are eligible to apply. The proposal will not be eligible if part of a submission to any academic institution or if the applicant is already receiving funding for the said proposal. People from marginalized sections are encouraged to apply.
Language
Applicants may choose to work in any Indian language including English. The application clearly needs to mention the language in which the applicant will write.
Terms and Duration
Up-to five awards of INR 1 lakh each will be awarded. Awardees are free to continue their primary occupation. The award monies will be released in instalments against specific deliverables. Any other expenditure incurred by the awardees will not be entertained by the hosts. The duration of the awards is six months beginning August 1.
Deliverables
Awardees are expected to write 5-6 articles/stories/case studies of minimum 1000 to 1200 words each and in case of research paper, it should be of 25 to 30 pages including graphs, boxes and highlights.
Broadcasting
Articles / case studies/ reports will be made available to the public in general, academic forums, civil society, state and development practitioners through multiple forums, including language translations to influence discourses and debates on child labour.
Ownership
While awardees will retain authorship of the final research pieces/ articles / case studies/ reports including the ones in story-telling formats, all information and insights gathered will be made available to interested people, free of cost. Awardees are free to publish the insights of their research efforts, with appropriate acknowledgement to the WNCB Awards – For Untold Stories. Awardees will also inform WNCB about publication of their work. WNCB too will have the copyright to collate all or select stories/articles and produce a compendium of writings on child labour with due acknowledgement to all awardees and their work.
Essentials for application
A biodata (not more than two-pages).
A proposal, which briefly explains the topic of study, objectives and proposed methodology and time lines (not more than three-pages).
A sample of published or unpublished paper/article or any documentation done on a related theme, if any.
Two references with their names, phone numbers and email addresses separately. These should be professional or academic references. Personal references will not be entertained.
Shortlisted applicants will have to make themselves available for a video call with the selection Committee, if required. Short-listed applicants will have the opportunity to share their ideas and future plans, in conversation with members of the WNCB jury and assessment team.
Last date for receiving applications is July 25, 2021.
Please E-mail your application to bhadauriasunita@gmail.com and monica.banerjee@wncb.org
In the absence of internet access, you may send your application by post to:
C/O ICCSPL/ICCo
A-45, Ground Floor
Sector 2, NOIDA,
Uttar Pradesh- 201301
T : 0120-4884700
Final Awardees will be announced on August 1.
More information
Facebook WNCB India     Twitter WNCB India     Instagram WNCB India     Webpage WNCB India