What we do
We aim to achieve that children and youth are free from child labour and enjoy their rights to quality education and (future) decent work. Work: No Child's Business contributes to the concerted global efforts to end all forms of child labour by 2025.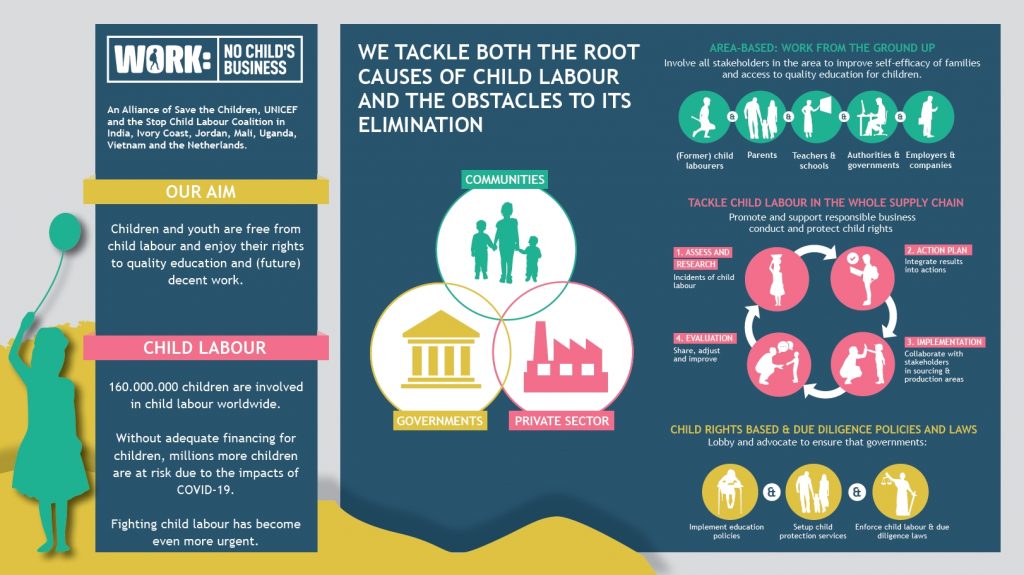 No child should be working
160 million children between 5 and 17 years old are involved in child labour worldwide, accounting for nearly 10 percent of the world's children. Child labour could rise by a further 8.9 million by the end of 2022 due to the effects of the Covid-19 crisis. Half of these children are aged 5 to 11 years. Moreover, almost half of these children, 79 million, are working in hazardous labour.
No child should be forced to work or be in child labour. All work done by children under the age of 15 and dangerous work done by children under the age of 18 is considered child labour. We believe that all children who are out of school are potential child labourers. It is important to help them back to school and to retain them in school.
Child labour often means that poverty continues to exist. Children who work and do not go to school will end up in low paid jobs later, and so will their children – which means the vicious cycle of poverty is continued.
Every child has the right to quality education and (future) decent work
Providing access to education for all children is one the most effective strategies for eradicating child labour. Ensuring quality formal education and preparing children to enter decent youth employment will lead to development and better opportunities for everyone: the children, their families and the communities.
Together we can combat child labour
Child labour is a global problem that requires a global solution. To eradicate all forms of child labour we need to work together on all levels. Through our area-based approach we can tackle child labour at the root and bring sustainable change in the communities. With our Child's Rights and Business Principles we encourage (international) companies to assume their responsibility and help them in finding solutions for eliminating child labour in their supply chains. We also seek cooperation with governments, who have an obligation to protect child rights and are key in setting and reinforcing relevant policies and legislation regarding child labour, CSR, education, youth economic empowerment and social security.
If we all take our responsibility and work together, we will strengthen and speed up efforts towards a child labour free world.